OUT NOW!
The Turning Tides. The Second in the Reynolds seafaring saga. A tale of jealousy and jeopardy, mistrust and malice.
 Gabriel Reynolds and his stunning red-haired wife Eleanor have settled happily into married life at Westshore…or have they? A woman with a loaded gun, a servant with a grudge and a buccaneering Irish sea captain seem intent on rocking the boat.
When Caroline Hodgeson makes what her ex fiancé Gabriel sees as an unsuitable match, it sets off a chain of events which will change all their lives. And not for the better.
Enigmatic Captain Padraic Turner and beautiful Bryony Swift, a new servant at Westshore, stir up unexpected feelings of envy and mistrust, suspicion and doubt. Gabriel soon sees the calm waters he'd anticipated have turned squally. Every day the tide seems to wash more problems to his door. Even when a happy announcement is made Gabriel's longed for settled home life looks set to be wrecked by forces beyond his control.
Can his constant lady help him steer a course to safe harbour? Or will she abandon ship when the seas turn rough?
The Turning Tides – the continuing tale of one man's love for an unconventional woman.
My Constant Lady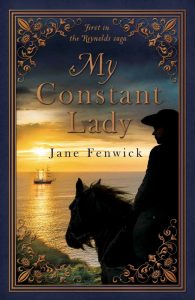 My Constant Lady – the first in the Reynolds seafaring saga. A tale of love, loss and loyalty.
North East Coast 1765
When Gabriel Reynolds meets flame haired serving wench Eleanor Barker in a Whitby tavern little does he know it is a meeting that will change the course of his life. First she runs out on him leaving him frustrated in more ways than one. Then the next time they meet , in more conventional circumstances, he finds she is engaged to be married. Undeterred and back in his home town of Alnmouth Gabriel knows he has to win the love of this beguiling woman and so sets about putting his house in order. But before he can declare himself fate deals Gabriel a cruel blow.
Back in Whitby Eleanor, who is in fact the daughter of a prominent ship builder, has troubles of her own. Learning her fiancé has been untrue she ends her engagement. In revenge her spurned lover tells her about Gabriel's past – a past she finds difficult to accept. Forced to choose between love and loss Eleanor flees to Amsterdam searching for answers. Will Eleanor's principles jeopardise her chance of happiness or can Gabriel convince her that he is not the man he used to be? Will the course of their love ever be plain sailing?
My Constant Lady – a sweeping historical love story of one man's love for an unconventional woman.
Jane's first book Never the Twain was released on October 7th 2019 and is available to buy on Amazon. Look out for the blog tour on all social media platforms. It will run for two weeks from 7th October.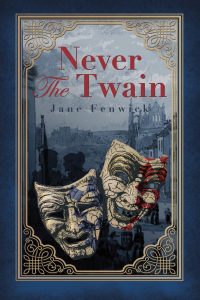 Never the Twain: A twin tale of jealousy and betrayal, love and murder.
The year is 1890. The port of Whitby is heaving with sailors and where there are sailors there are brothels doing a roaring trade. Beautiful identical twins April and May are in desperate straits.   They have been abandoned by their actress mother and are about to have their virginity auctioned off to the highest bidder by a notorious brothel madam.  Read more . . .
Read reviews of Never the Twain on Goodreads . . .
My Constant Lady is set on the North East coast and begins in 1765. It is the first of a three part romantic saga. It will be available early in 2020 and will be followed by The Turning Tide, the second in the series.