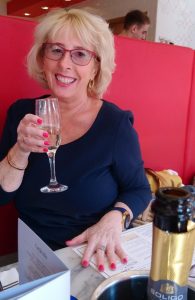 Jane Fenwick lives in the market town of Settle in Yorkshire, England. She studied education at Sheffield University gaining a B.Ed (Hons) in 1989 and going on to teach primary age range children. Jane decided to try her hand at penning a novel rather than writing school reports as she has always been an avid reader, especially enjoying historical and crime fiction. She decided to combine her love of both genres to write her first historical crime novel Never the Twain.
Jane has always been a lover of antiques, particularly art nouveau and art deco ceramics and turned this hobby into a business opening an antiques and collectables shop in Settle. However her time as a dealer was short lived; she spent far too much time in the sale rooms buying items that ended up in her home rather than the shop!
Animal welfare is a cause close to Jane's heart and she has been vegetarian since the age of fourteen. For the last twenty years she has been trustee of an animal charity which rescues and rehomes cats, dogs and all manner of creatures looking for a forever home. Of course several of these have been "adopted" by Jane!
Jane has always loved the sea and although she lives in the Yorkshire Dales she is particularly drawn to the North East coast of Yorkshire and Northumberland. This coastline is where she gets her inspiration for the historical crime and romance novels she writes and, as she has always loved history, she finds the research particularly satisfying.
When she isn't walking on Sandsend beach with her dog Scout, a Patterdale "Terrorist",  she is to be found in her favourite coffee shop gazing out to sea and dreaming up her next plot. Jane's current historical saga series is again set on the North East coast beginning in 1765.
Never the Twain is a stand alone novel set in Victorian Whitby and is a twin tale of jealousy and betrayal, love and murder. A dark blend of Gothic romance and murder. The Reynolds seafaring saga, My Constant Lady, The Turning Tides and Safe Harbour are all out now. Buy on Amazon